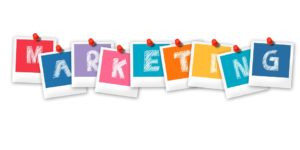 In order for a business to survive, it must have customers. In order to have customers it must sell a product or service that people want or need. Then it must find ways to reach out to those potential customers in order to convince them that their wants and needs can be satisfied by that particular business. In a competitive marketplace, where every business is reaching out to a finite universe of consumers, getting enough customers "in the door" not only requires excellence in the product or service being offered, but most certainly in the ways in which the business promotes itself and markets it product or service to the public.
Without marketing, a business may offer the best products or services in the industry, but none of its potential customers would know about it. Of course, not everyone will be interested in every product or service offered, which is why one of marketing's functions is to research a company's target audience – those consumers who are most likely to need and purchase what it is selling. This research includes paying attention to buying trends – what people are looking for – as well as investigating what one's competitors are selling, how they are attempting to reach a similar target audience, and how they are pricing their offerings.
Another part of the marketing process involves promotion. Once the target audience is recognized, it must be informed about the value of purchasing from a particular company – the product or service's features and benefits have to be communicated to the potential consumer artfully, engagingly, and consistently. Promotion can include advertising, direct selling, and public relations – all are ways in which a product or service is presented to the buyer. It is impossible to overestimate the importance of promotion – the best product in the world will sit on a warehouse shelf unless it is successfully promoted in the marketplace.
Yet another part of the marketing process involves post-consumer research. Not every type of promotion will work with every consumer. It's important to gather feedback on each part of a marketing campaign in order to determine what is working and what isn't. A lot of money can be wasted on promotional activities that don't resonate, and, therefore, don't do the job they're supposed to do, which is bringing in customers.
Ultimately, the success of any company rests not only on the quality of its product or service, but on its reputation and name recognition in the marketplace. The reason that people will, for example, spend more money for a bottle of Advil, rather than generic ibuprofen, which is the exact same product, is because the former has built brand recognition and company trust over many years of marketing. No matter how great a product or service is, without marketing efforts, there will likely be no sales – and no sales means no company.